Welcome To My page of ANIMATION and Other Useful Links. On this page are links to my favourite sites by category, also with links to resources I use and think you may find useful.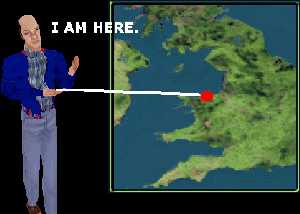 ANIMATION WEBSITES.
http://www.anipike.com/ - Major Website for everything Anime and Manga.
http://www.otakuworld.com/ - For the Best of Anime and Manga on the Web.
http://www.animeshrine.com/ - Another large site offering Animation Resources.
Anime International Company - Japanese producer for Anime e.g. Bubblegum Crisis.
The Finest in Anime - AnimEigo (Japanese Animation) - Translator of Japanese Anime to English.
http://www.advfilms.com/main.html - Importer and producer of anime in North America and the U.K.
Search Engines
AltaVista You know us as the Internet's original search engine.
Lycos One of the most visited hubs on the Internet reaching one out of every two web users.
Yahoo! With over half a million sites split into more than 25,000 categories, Yahoo! is both browseable and searchable.
Express Search Express Search is a FREE desktop search application that searches multiple engines and Websites simultaneously.
USEFUL UTILITIES
World Clock Page Want to know the time in another part of the world? Try this link.
Currency Converter.Spending time importing products, use this site to convert your currency.
SkinStop. Bored With Yahoo's Default Skin, Go here to download new ones.
WINAMP Get WINAMP, a PC MP3 player, also skins and plugins.
WINZIP. You Need this Compression tool if you get files off the web!!
WEBSITEGARAGE. Web Site Garage provides services for maintaining and improving your Web site.